There are pretty much just five types of cafes out of all the cafes you'll likely visit. Whether they're dressed up, themed, tiny or huge, step inside and check them out to see which of the five categories it fits into.
The Pit-Stop
This is more like a hole in the wall than a cafe. It's that place right next to the bus stop that smells great enough to tempt you in. There are likely two or three stools slotted in front of the window, but most of the customers are in and out with their daily injection of caffeine.
The Specialty Place
If the amount of coffee on the board scares you, and the barista has a very large but well-kept beard, it's likely you're in a specialty place. This place prides itself on its different coffees, displaying the bags loudly and proudly, and writing the names of the country in different coloured chalk on the board. Be prepared for lots of questions, beyond the usual "large decaf latte".
The Chain
Just because it's a chain, doesn't mean it's not nice or cool inside. These places can be just as colourful, friendly, and comfy as the next. There might be an element of "too polished" about it. You'll get what you want here, but you may miss that edge of authenticity with a one-off coffee shop that still uses chalkboards.
The "House" Cafe
This will probably be in an actual house, an old one. Short of saying "Ye Olde C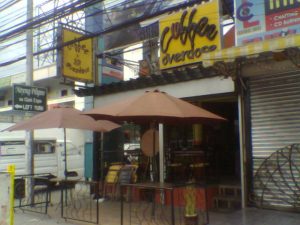 offee House", this place is snug, adorable, and probably full of bookworms and locals, as well as plenty of other characters. The desserts will change every week, and there will be a notice when they get a new coffee in. Find a comfy corner and snuggle in to admire the architecture.
The Hybrid
Cafes aren't always cafes. Today you can get desserts, baked goods, lemonades, teas, and hot chocolates. Quite often cafes can be cafe-restaurant hybrids, open all day, often serving full breakfasts, lunches, and even dinners and suppers. With a bigger menu, a bigger space is often required, so you'll find these cafes stretch into the back end of beyond.
What's your favourite kind of cafe and why do you seek them out? For coffee, food, relaxation, meetings, or somewhere to think?