The great things about cafes is how familiar they are; you can pop in to get a quick coffee, or stay and relax in a calming atmosphere. But with cafes popping up on almost every street, there are lots that want to shake them up a bit. From old-fashioned to super modern, animal-themed, and cereal-themed, here are some quirky cafes from around the world you should see on your travels.
Dreamy Camera Cafe, South Korea
Designed as quite literally a giant camera, this cafe is something to see. Get lots of snaps from the outside, and snag a seat by the window – which is one of the camera lenses.
Cereal Killer Cafe, London
That's right, this trendy Shoreditch cafe makes its name by serving cereal. Not just any old cereal, but hundreds of cereals from around the world. If you're craving a childhood delight you haven't had in years, here's the place to get it.
Modern Toilet Cafe, Taiwan
Expect to stand on, sit on, eat and drink out of anything toilet related here. There's just something about toilets we humans can't get away from! Don't worry though, it's all clean.
Owl Cafe, Tokyo
Stepping it up a notch from cat cafes, Tokyo opened up its very o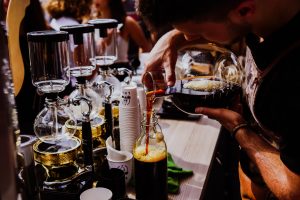 wn owl cafe. The outdoor location means there is plenty of space for the birds to fly around – and one may even come and sit on your shoulder.
Do you have an idea for a cafe that hasn't been realised? Act quickly before it gets snapped up! If these places have proven anything, it's that quirky is definitely a popular trait for cafes all around the world.